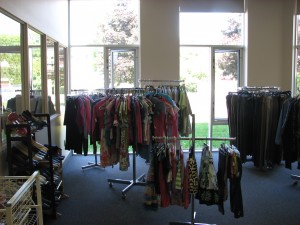 PLEASE NOTE:  THE TSA THRIFT SHOP IS CLOSED, EFFECTIVE MONDAY MARCH 16, 2020, IN LIGHT OF THE CORONAVIRUS OUTBREAK.
WE WILL ADVISE WHEN THE STORE WILL RE-OPEN.
We thank you for your patience at this time.
In 2015 TSA opened its very own Thrift Shop. This store, located on the ground floor of the church, offers excellent quality, low cost clothing and household goods to the community. We take pride in creating an atmosphere were everyone is welcome. We are also happy to live out our faith by keeping materials from going to the landfill.
Shop Hours:
Mondays from 10am to 2pm, and
Thursdays from 1pm to 7pm.
Saturdays from 10am to 2pm.
(when a statutory holiday falls on a Monday the store opens on the following Tuesday 10am to 2pm)
Donations are gratefully accepted whenever the store is open.
Entry through Quarry Street entrance.
Keep up with sales and events and promotions through:
Facebook: TSA Thriftshop
Twitter: @TSA_thrift
Instagram: @tsathrift
#TSAThrift*

Like Us on Facebook
Volunteers always welcome. Please contact the church office, 613-432-2285.